Obsessed with continuous improvement, I help entrepreneurs and leadership teams improve every aspect of running their business.
Professional EOS Implementer and Kolbe Certified Consultant
Over 25 years experience helping organizations achieve their goals
Experienced cross-industry implementer since 2016
What Can EOS Do For Your Business?
Getting everyone in your organization 100% on the same page with where you're going and how you plan to get there.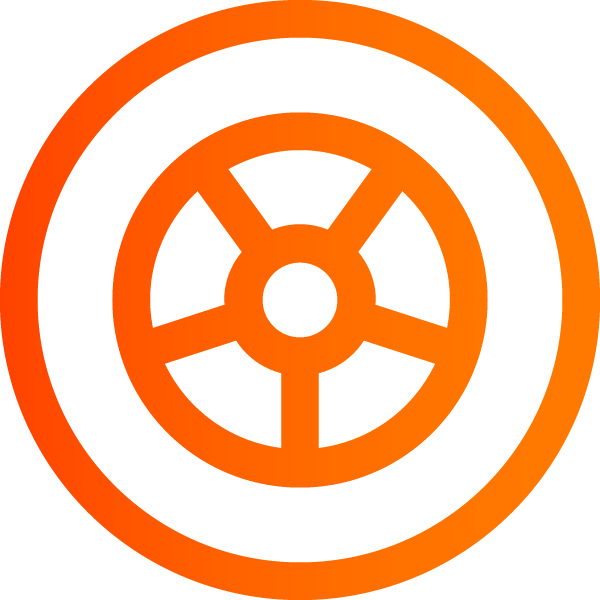 Instilling focus, discipline, and accountability throughout the company so that everyone executes on that vision—every day.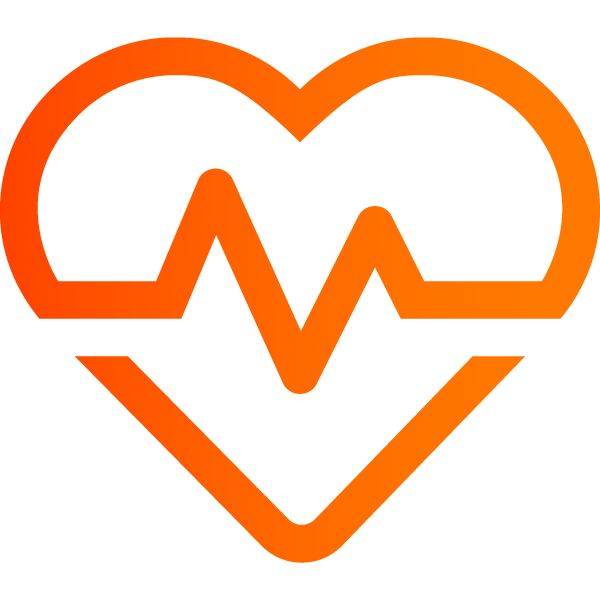 Helping your leaders become a more cohesive, functional, healthy leadership team.
EOS (The Entrepreneurial Operating System®)
Are you feeling stuck?  Has your business hit the ceiling?
You probably already know that abstract theories and complex management fads won't solve your issues. EOS is a simple, proven business operating system that can help your entrepreneurial organization clarify, simplify, and achieve its vision.
Look at your business in a whole new way – through the lens of the Six Key Components™.
The EOS Model® provides a visual illustration of the Six Key Components of any business in any industry that must be managed and strengthened to be a great business.
Book a 90 Minute Meeting With Me 
The first step in the EOS Process® is to schedule a 90 Minute Meeting. This complimentary meeting will allow you to learn more about the EOS Process to determine if it's a fit for you and your organization.
All EOS Implementers Share These Core Values:

Humbly Confident
Open, honest, real and well-practiced, ready to make a positive difference.
Grow or Die
Driven to maximize every situation and take ourselves and our clients to the next level.
Do what we say
Sometimes more, never less.

Do the right thing
Never betraying a trust and doing whatever it takes to resolve every issue so people can move forward.

Help First
Subordinating our personal interests to advance others, always giving value before expecting anything in return.
Companies using EOS Tools
Hear it directly from transformed businesses.
We've been working with Kimberly for some time and she keeps us on track! For the past three months we have had two record sales months. We would not be where we are today without having the EOS process in place and without having the help of CultureShoc walk us through this process and implement it the correct way.
Brett Larick
President, Columbia Chemical
In short, while we read the books and followed the format, it became very apparent that we were being far too lax about implementation.  Not only did we need a fresh voice, from outside the business, we also needed a professional EOS Implementer to keep us focused and accountable. That someone is Kimberly.
Travis Grundke, Executive VP
Ashton Technology Solutions
Overton has had a great experience with CultureShoc, Kimberly is very knowledgeable and has practical, real world experiences to share.  Implementing the EOS system has given our team a focused and disciplined approach to moving our business forward.
Scott Buie
CEO, Overton Industries
Want to Tackle EOS® on Your Own? Here's Some Guidance

on May 28, 2021

I've talked to owners and leadership teams who are either interested in or currently implementing the Entrepreneurial Operating System® (EOS) on their own. As you probably know by now, this operating system is the ideal method to run a company more effectively, profitability and reliably. While […]

Why I Became an Professional EOS Implementer®

on May 28, 2021

Over the last 25 years, I have developed a passion, an obsession with continuous improvement. Improvement of products, of process, of strategy and ultimately, results. How? By helping others achieve their goals.  By bringing simplicity, structure and continuity to business owners, the results have […]
I deliver keynotes and workshops that are perfect for groups of growth-oriented business owners, leaders, managers and emerging leaders. Topics include: how to run highly effective meetings; confronting organizational issues head-on; growing leaders and leadership; and driving discipline and accountability throughout your team. I have given talks and workshops for COSE Small Business Conference, Precision Metalworking Association (PMA), Ohio Society of Executives (OSAE), Vistage, Goldman Sachs 10,000 Small Business and non-profit organizations. In addition to my work as a Professional EOS® Implementer and Kolbe Certified Consultant, I serve on the Board of the Nature Center at Shaker Lakes in Cleveland, Ohio.
April 20, 2022 - April 22, 2022
- All Day
EOS's biggest yearly event, which offers unique opportunities for leadership teams and decision makers from small to medium-sized entrepreneurial EOS-run companies to further master EOS Tools and the EOS Process®.
Sign up >>
September 29, 2022 - September 30, 2022
- All Day
EOS's biggest yearly event is now in London for the first time!
Sign up >>
How Strong is Your Organization?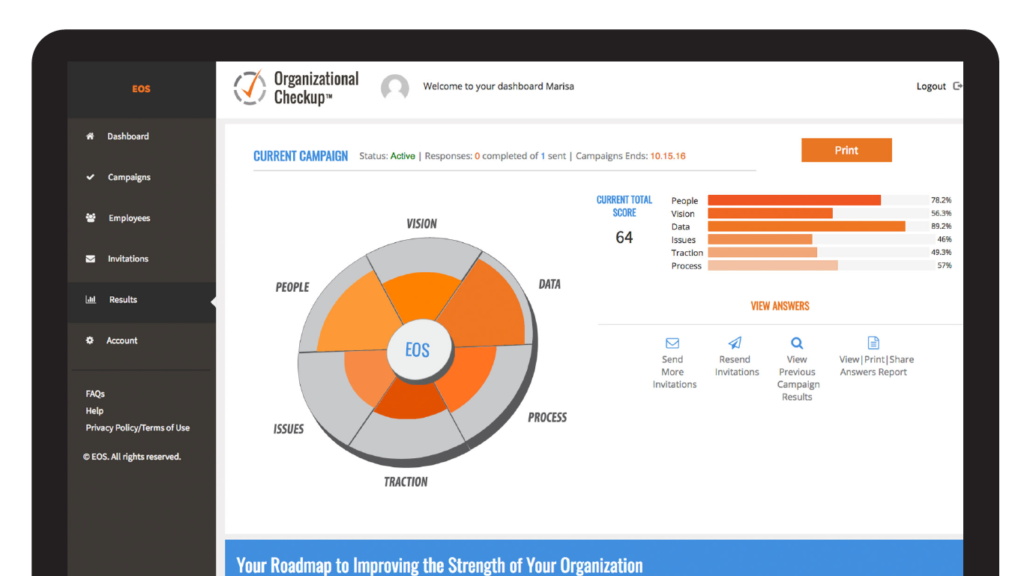 Measure the strength of your company with our Organizational Checkup®.
Strengthen the Six Key Components™ of your business.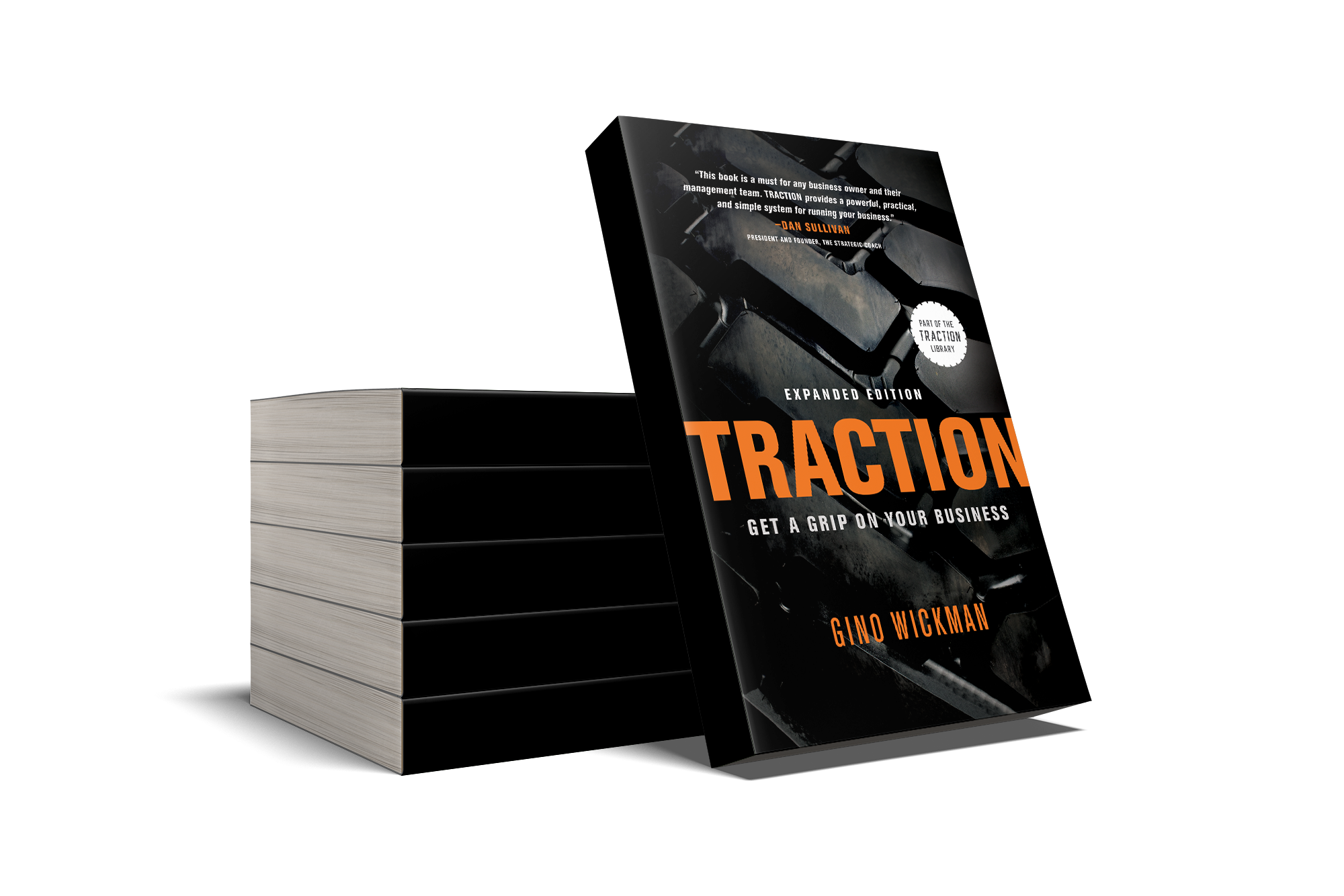 Inside Traction, you'll learn the secrets of strengthening the Six Key Components™ of your business.
Get Your Business Laser-Focused Today.
Request a free 90 Minute Meeting with me to learn how your business can benefit from EOS.