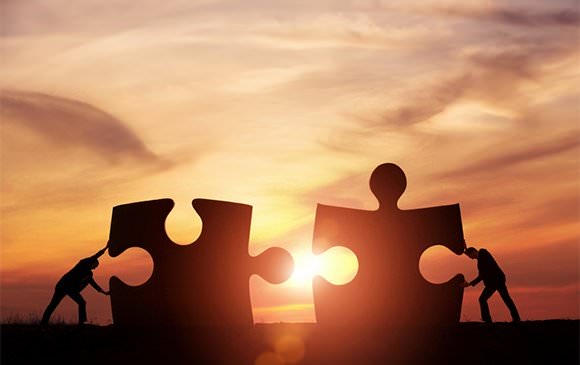 In an entrepreneurial company, the roles of Visionary and Integrator are an essential part of the organization, no matter how big or how small. The Visionary and the Integrator couldn't be more different in terms of how they think and problem-solve. However, when their individual Unique Ability® is correctly matched together and they are working toward the same business goals, the results can be exciting.
The Visionary entrepreneur's passion, drive, and creativity are the key elements that help launch a business and fuel a company's growth. But when a company is growing, the Visionary entrepreneur can start to feel swamped with the overwhelming workload, and their momentum begins to stall and sputter. Every great Visionary hits this threshold.
The Visionary needs someone who is detail-oriented, who knows how to keep the team harmonious and productive, who is great at resolving conflict, and who can execute detailed plans for maximum results. Enter the Integrator.
Integrators Maintain Business Harmony
In order to maintain harmony among the major functions of the business, every company needs an Integrator. The Integrator can have many other titles, but no matter what you call it, the right Integrator for any organization is the person who has the Unique Ability® to manage daily issues as they come up and the ability to integrate all three major functions of the business – Sales and Marketing, Operations, and Finance – into one harmonious group. Put simply, the Integrator acts as the glue that keeps the team together.
Visionaries Drive Creative Thought and Innovation
Visionaries are the "dreamers" in the organization. A Visionary is that person who is always coming up with a list of ideas every week for the business, and who is a natural creative problem-solver. Visionaries tend to operate more on emotion than on logic and strongly value the company culture. Visionaries offer Integrators a creative insight to the business, while Integrators provide the logical and structured approach that is also needed.
Finding the Winning Formula
The Visionary/Integrator relationship is a two-piece puzzle. Even the most inspiring Visionaries cannot do it all, and the ideal Integrator will fill the void, seal the gap, and complete the winning formula.
Here's a great video from EOS® founder Gino Wickman, and his Rocket Fuel co-author, Mark C. Winters, to help illustrate the components of this winning formula: 
When you create your company Accountability Chart, you'll identify the major functions of your business and fill these roles with leaders who are accountable for driving results in each area. The people heading up these major functions of the business comprise the Leadership Team, and they work together with the Visionary and Integrator to maintain smooth operations for the entire business. When you've got the right people in the right seats on your Leadership Team (and in the rest of your business), you can achieve the accountability you need to take the business to the next level.